STANDARD FEATUR
¨ª Descent Arm ( Y Axis ) : Pneumatic Operation ( Nozzle Center Location )
¡× Non-Telescopic, Festo Actuator, Ball Bush, Shock Absorber
¨ª Swing Angle ( Z Axis ) : Pneumatic Operation
¨ª Kick Stroke ( X Axis ) : Pneumatic Operation, Quick Set up by manual.
¨ª HYNC-200 LCD Screen Controller
¨ª Body Attached Control Box (DC Power Generator, Molding Machine Interface board, Main Control Board, Relay )
¨ª SPI Robot/IMM Electrical Interface : Euromap 12
¨ª One Gripper Circuit with Monitoring Sensor input : HYRobotics Standard Sprue Gripper included.
¨ª One Printed Manual for self installation.
¨ª Individually Packaged in Thick Paper Pallet
DETAIL INFORMATION
ü <![if !vml]>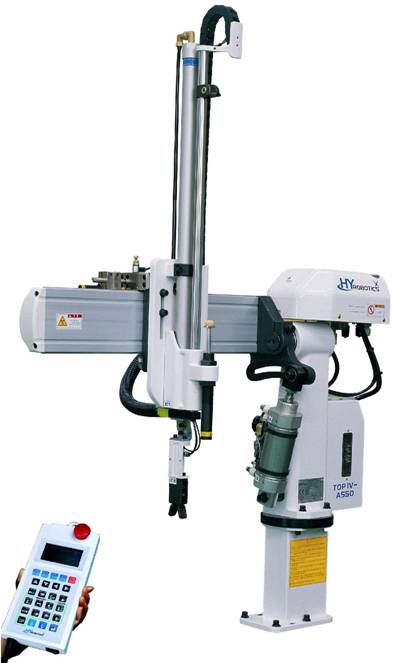 <![endif]>Steel Die-casting Body for durability with high precision robot position..
ü German Engineered Festo Actuator for all Motion Axis
ü Speed flow control for finding optimized speed.
ü One Touch Stroke adjustment for Each Axis.
ü Cable career to protect the wire and pneumatic tubing.
ü Large size shock absorber for Descent Motion.
ü Aluminum extruded profile Kick arm for light weight with high strength.
ü Pneumatic circuit with gripper and sensing confirms sprue removed from mold.
ü Optional Vacuum generator with sensing switch at the end of robot arm, it is easy to reach and confirm sensing.
ü Easy to confirm with Bright Red LED for Robot and Molding Machine Interface.
ü One touch swivel bracket for operator side or non-operator side drop for sprue
ü CE Certified Handy Controller to operate machine.
ü Good and clean design.